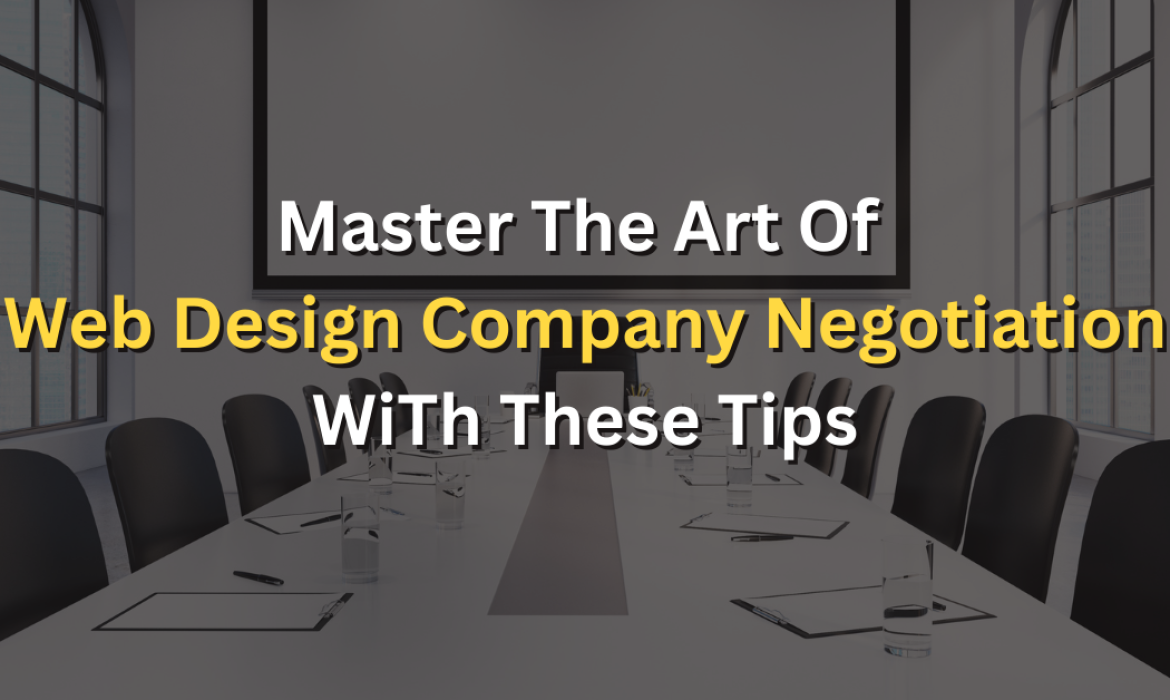 Introduction
In today's digital age, having a professionally designed website is essential for businesses to thrive. But negotiating with a web design company can be a challenging task. In this article, we will share some valuable tips to help you master the art of web design company negotiation, ensuring that you get the best value for your money.
Know Your Goals
Define your objectives
It would help if you clearly understood your goals and objectives before entering into negotiations. Define the purpose of your website, the target audience, and the desired outcomes. This will help you communicate your needs effectively and identify the most suitable web design company for your project.
Set your budget
Determine your budget beforehand to avoid overspending. Remember that a well-designed website is an investment, so be prepared to allocate adequate funds. Having a clear budget will also help you negotiate better, as you'll know the limits of what you can afford.
Research the Market
Evaluate competition
Analyze your competitor's websites to understand the current market trends and standards. This will give you valuable insights into what works and what doesn't, allowing you to make informed decisions during the negotiation process.
Understand industry standards
Familiarize yourself with the industry standards for web design, such as pricing, project timelines, and deliverables. This knowledge will help you set realistic expectations and fair comparisons between web design companies.
Select the Right Web Design Company
Check their portfolio
Reviewing a web design company's portfolio is crucial to gauge its ability to deliver the desired results. Look for projects similar to yours and assess their overall quality and creativity.
Assess their expertise
Working with a company with the required skills and experience to meet your specific needs is essential. Analyze customer reviews and testimonials to understand their expertise in various areas, such as user experience, responsive design, and search engine optimization.
Analyze customer reviews
Reading customer reviews will give you a better understanding of a company's strengths and weaknesses. Look for feedback on their communication, project management, and overall satisfaction. This will help you decide when selecting a web design company.
The Negotiation Process
Prepare your strategy
Having a well-planned negotiation strategy is vital to ensure a successful outcome. Outline your priorities, fallback options, and deal-breakers. This will help you stay focused and negotiate effectively.
Communicate effectively
Good communication
In this conversation, we were unable to use the previous model. We've switched you to the latest default model is key to any successful negotiation. Clearly express your expectations, budget, and timeline. Listen actively to the web design company's suggestions and feedback. Be open to compromise and willing to explore alternative solutions.
Find common ground
Finding common ground with the web design company is essential during negotiation. Identify shared goals and areas of mutual interest. Build a rapport with the team to establish a positive and productive relationship.
Finalizing the Deal
Review the contract
Upon reaching an agreement, carefully go over the contract. Ensure that all the agreed-upon terms are included, and there are no hidden costs. Seek legal advice if necessary.
Establish milestones
Establish clear project milestones to track progress and ensure timely delivery. This will help you and the web design company stay on track and accountable.
Frequently Asked Questions
How important is it to have a well-designed website?
A well-designed website is crucial for businesses to establish their online presence, attract and retain customers, and increase their bottom line.
What factors should I consider when selecting a web design company?
Their portfolio, expertise, customer reviews, pricing, and project timelines are best.
How can I negotiate better with a web design company?
Prepare your strategy, communicate effectively, find common ground, and be open to compromise.
Is it essential to review the contract before finalizing the deal?
Yes, reviewing the contract is crucial to ensure that all the agreed-upon terms are included and that there are no hidden costs.

Why is it important to establish project milestones?
Establishing project milestones helps track progress, ensure timely delivery, and hold both parties accountable.
Conclusion
Negotiating with a Master the art of web design company can be challenging, but you can achieve a successful outcome with the right approach. Know your goals, research the market, select the right web design company, prepare your strategy, communicate effectively, find common ground, and finalize the deal. If you follow these tips, you will be well on your way to mastering the art of negotiating with web design companies. Negotiating with a web design company like XIOSOl? Don't let problems hold you back! Master the art of negotiation with the XIOSOL expert tips and reach a win-win solution.