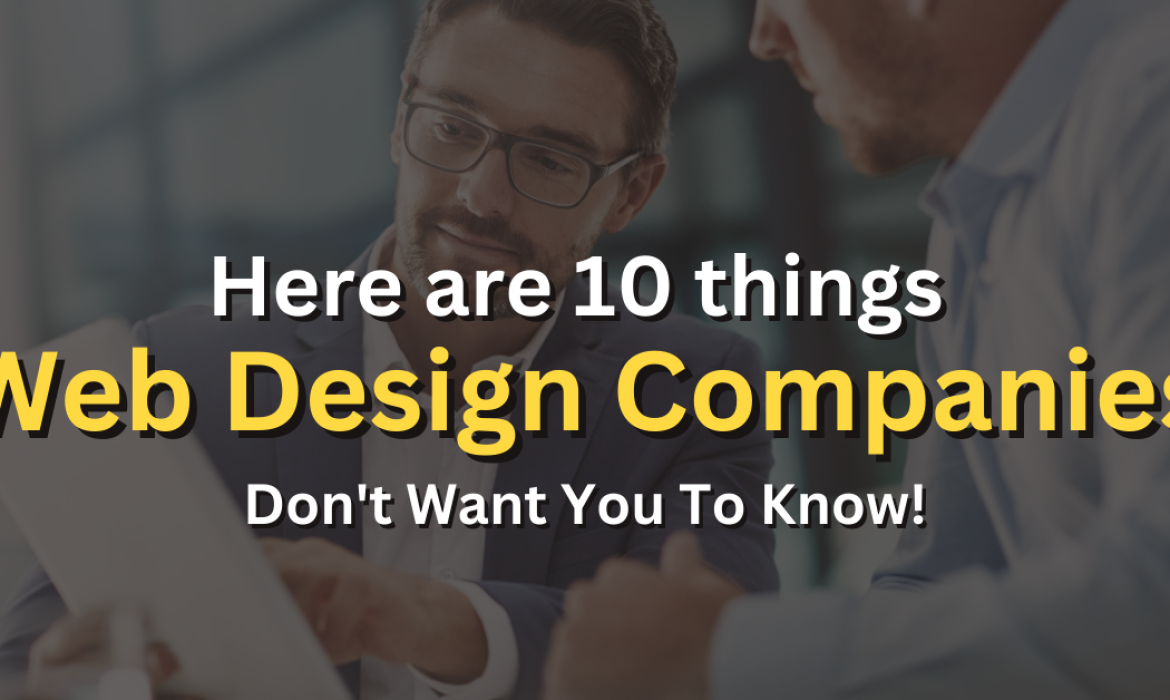 Here are 10 things that web design companies don't want you to know!
Secret #1: Free Website Builders Exist
A free website builder makes it easy to create a professional-looking website. While these might offer a different level of customization than a web design company, they can be a more cost-effective solution for those just starting.
Comparing Web Design Companies and Free Website Builders
Web design companies offer a tailored experience and a unique design, but they come at a cost. In contrast, free website builders provide templates and tools for customization but may need more personal touch and support than a web design company can provide.
Secret #2: The Importance of Responsive Design
In this technologically advanced era, having a website that adapts to all devices, whether smartphones, tablets, or desktop computers, is imperative for optimal performance and aesthetics. As the number of individuals utilizing mobile devices surges, ensuring the responsiveness of your website has become more paramount than ever before.
Mobile-First Indexing
Google prioritizes mobile-friendly websites in their search results. You may lose search engine rankings if your website is not mobile-friendly.
How to Ensure a Responsive Design
A good web design company will always prioritize creating a responsive website. However, if you use a free website builder, choose a responsive template and test your website on various devices.
Secret #3: Hidden Costs and Fees
Web design companies may have hidden costs and fees beyond the initial quote, such as ongoing maintenance, updates, domain registration, and hosting fees.
Maintenance and Updates
Regular maintenance and updates are crucial to keeping your website running smoothly and securely. Some web design companies may charge extra for these services, so ask about these costs upfront.
Domain and Hosting Fees
Domain registration and hosting fees are usually not included in the web design quote. If you are budgeting for your website project, include these costs, and compare different providers to find the best deal.
Secret #4: Stock Images and Templates
Many web design companies use stock images and pre-built templates instead of creating custom designs from scratch. This can save them time and resources but may not result in your brand's most unique and personalized website.
Custom Design vs Premade Design
While custom designs can provide a more unique and tailored experience, they often come at a higher cost. Premade templates and stock images can still create a professional-looking website but may need more individuality to set your brand apart.
Pros and Cons of Stock Images
Stock images can save time and money but may not accurately represent your brand or target audience. Weigh the benefits and drawbacks of using stock images before deciding on your website's design direction.
Secret #5: Search Engine Optimization (SEO)
More than a well-designed website is needed; it also needs to be optimized for search engines to rank higher in search results.
On-Page SEO
Keyword usage, meta tags, heading tags, and image optimization are all part of on-page SEO. Make sure your web design company understands and implements these elements.
Off-Page SEO
Link building, social media promotion, and guest posting are all off-page SEO strategies. A good web design company should also be able to advise on these aspects or provide recommendations for external partners.
Secret #6: Content Management Systems (CMS)
CMSs enable you to update and manage your website without knowing any coding. Many web design companies build websites using popular CMS platforms such as WordPress, Joomla, and Drupal.
Popular CMS Platforms
Choosing the right CMS is crucial for your website's functionality and ease of use. Ensure your web design company knows the CMS they recommend and can provide adequate support.
Secret #7: Outsourcing to Freelancers
Some web design companies outsource work to freelancers to save on costs. While this may be a good thing, it's important to maintain the work's quality and smooth communication.
Benefits of Hiring Freelancers
Hiring freelancers can provide cost savings and access to a wider talent pool. However, managing the project effectively and ensuring clear communication between all parties involved is essential.
Secret #8: Accessibility and User Experience
An accessible website is essential for reaching a broader audience and ensuring a positive user experience.
Importance of Accessibility
Creating an accessible website is good practice and a legal requirement in many countries. Ensure your web design company is familiar with accessibility guidelines and can implement them in your website design.
Tips for Better User Experience
Focus on clear navigation, fast load times, and engaging content to provide a seamless user experience on your website.
Secret #9: The Use of Analytics and Data
Tracking user behaviour and analyzing data can help you make informed decisions and improve your website's performance.
Tracking User Behavior
Implement tracking tools like Google Analytics to monitor user behaviour and gather insights into how visitors interact with your website.
Secret #10: Importance of Ongoing Updates
Regular website design and content updates can help you stay ahead of the competition and maintain a secure and functional website.
Staying Ahead of the Competition
Keeping your website updated with the latest design trends and technologies can help set your brand apart and provide a better user experience.
Keeping Your Website Secure
Additionally, regular updates can protect your website from security threats.
Frequently Asked Questions
How can I ensure my web design company is reliable?
Please do your research, read reviews, and ask for portfolio samples to evaluate their work. Communicating your needs and expectations is also important.
Can I use a free website builder instead of hiring a web design companies?
Yes, you can use a free website builder, but it may provide a different level of customization and support than a professional web design company. Consider your budget, needs, and expertise before making a decision.
What should I look for in a good web design company?
A good web design company should have a strong portfolio, understand the importance of SEO, responsive design, and accessibility, and communicate effectively with you throughout the project.
How can I keep my website secure and up to date?
Regularly update your CMS, plugins, and themes, and implement security measures like SSL certificates and strong passwords. Stay informed about security threats and best practices to protect your website.
Is it important to have an accessible website?
An accessible website ensures that all users, including those with disabilities, can easily access your content and navigate your site. It also helps improve your search engine rankings and is legally required in many countries.
Conclusion
The secrets revealed in this article can help you make informed decisions when choosing a web design companies or creating a website on finish it your own. Remember to consider factors like responsive design, SEO, accessibility, and ongoing updates to create a successful and effective online presence for your brand. If you want these services so look no further than, XIOSOL is committed to providing exceptional services to our clients.
Related Posts
Define Your NeedsBefore you search for the perfect web design company, you need to define your needs. Ask yourself questions like:What is the purpose of your website?Who is your target...
Welcome to XioSol; we are the leading digital marketing agency in Dubai, UAE. Our focus is on providing high-quality digital marketing services in Dubai, UAE. We recognize the significance of digital...